Audiences are loving the new show on seniors discounts, aging, how to not get into a fight on Facebook, and the wisdom of grandmothers is one of my pride and joys.
Downward Facing Broad is 90 minutes of pure hilarity! Kimmett dissing on Aquafit, the seniors discount and how society ghosts you as you age. (with the wonderful blues musician, Kim Pollard)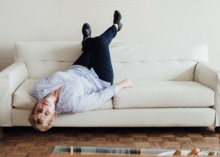 June 6th, 2019.  Nexicom Showplace Theatre. Peterborough, Ontario. ( sponsored by KawarthaNow) Grab a ticket.
July, 19 ,2019. St. Paul's Presbyterian Church, Amherst Island.( sponsored by Lorna Willis ProAlliance Royal LePage)  Grab a ticket.
---
THE AUDIENCE WEIGHS IN:
"Go see this show. You will laugh until your cheeks hurt and it is filled with honesty and things that will have you shaking your head in recognition. We saw the show in Toronto and it was FANTASTIC. Scott White.
---
" You are the comedy boss."  Elizabeth Osler.
---
"This show keeps getting better and better." Michelle McPhail
---
" I must have laughed two hundred times! Thank you from all us older broads for digging in so deep and honoring us!"     Arlene Marzerole.
---
"Thank you… it was such an extraordinary evening…the music, the laughter until I cried and poignant moments to be relieved by a killer line… GREAT, thank you. " Georgina Cannon.
---
---
"I would never have believed comedy and music of this kind could come together, it was so distinct. Deb would stop. The music would start. and somehow two art forms flowed together to paint a picture of everyone could relate to." John (from Goderich)
---
"We are hoarse from hootin' and hollerin! "Julia Bennett
---
"Laughed my guts out. Peed my pants… Nailed it.  Over.  And over.  And over"   
Dr. Carol Redmond,

Toronto.
---
"Seriously – a GREAT evening! Pat Yeatman! 
---
Would you like to book this show? Or  have Deborah bring her wit and wisdom to your next event?  Email us here!